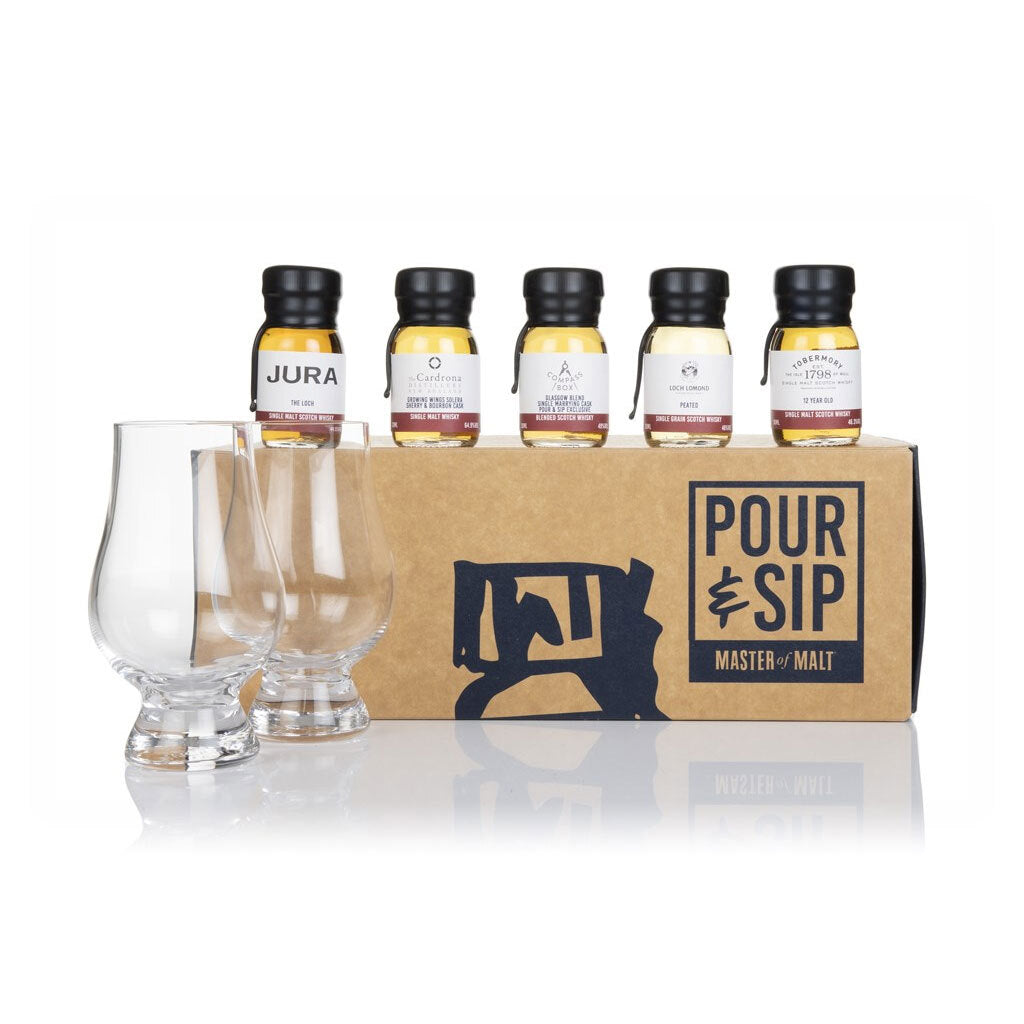 Pour & Sip January 2022 Box
5 drams, 2 glasses, how to taste whisky flyer, and tasting cards
£21.95
RRP: £40.95 You Save: £19.00 (-46%)
Product details
New year, new whiskies! We can't wait to get stuck into another year of sharing our favourite whiskies with you all. So, without further ado, let's see what we've got for you this month. From a Pour & Sip-exclusive Scotch to a New Zealand single malt, it's a pretty awesome selection, if we may say so ourselves.
Compass Box Glasgow Blend Single Marrying Cask - Pour & Sip Exclusive: Pour & Sip Exclusive alert! This single cask blend is made up predominantly of Craigellachie malt and Cameronbridge grain whiskies, with smaller proportions of Clynelish and Laphroaig, and a Highland malt blend in support. Heavily-toasted French oak, first-fill and refill ex-bourbon barrels and hogsheads, and ex-sherry butts are among the cask maturations, with all the whiskies married in an ex-Clynelish cask for 15 months before bottling in August 2021. Hallmark waxy, floral notes from Clynelish sit among ripe fruits, French oak spices, and savoury nuances. 

The Cardrona Growing Wings Solera - Sherry & Bourbon Cask: A cask strength single malt from Cardrona Distillery in New Zealand, matured in a combination of ex-Oloroso sherry and ex-bourbon casks. The whisky itself is packed with oily nuts and juicy dried from the sherry cask, along with creamier vanilla notes from the bourbon cask.
Tobermory 12 Year Old: From Tobermory Distillery on Scotland's Isle of Mull comes this fabulous 12-year-old single malt. First released in early 2019, it was launched in celebration of the distillery returning to life after a two-year break! It's matured exclusively in American oak casks before being bottled up, full of ripe orchard fruits, creamy malt, and a hint of coastal salinity. 
Jura The Loch: A spicy single malt from the wonderful Jura distillery, found on the Scottish island of the same name 60 miles from the mainland. It's named The Loch after the distillery's all-important water source, Market Loch, found 1,000 feet above sea level. The whisky itself is a blend of peated and unpeated spirits, matured in both American white oak ex-bourbon barrels and casks which previously held 30-year-old Pedro Ximénez sherry. 
Loch Lomond Peated Single Grain: Based in the Highlands, Loch Lomond has one of the most unique still set-ups in the whole of Scotland. It currently boasts three different still set-ups, with the original Lomond stills (a combination of pot and column stills), traditional pot stills, and Coffey column stills, giving it the option to produce a plethora of different spirits. This particular bottling is produced using heavily-peated malted barley distilled in a Coffey still, and matured in a combination of first and refill American oak ex-bourbon casks, adding a bundle of ripe fruit and sweet creamy notes to the smoky spirit.