A journey to Jura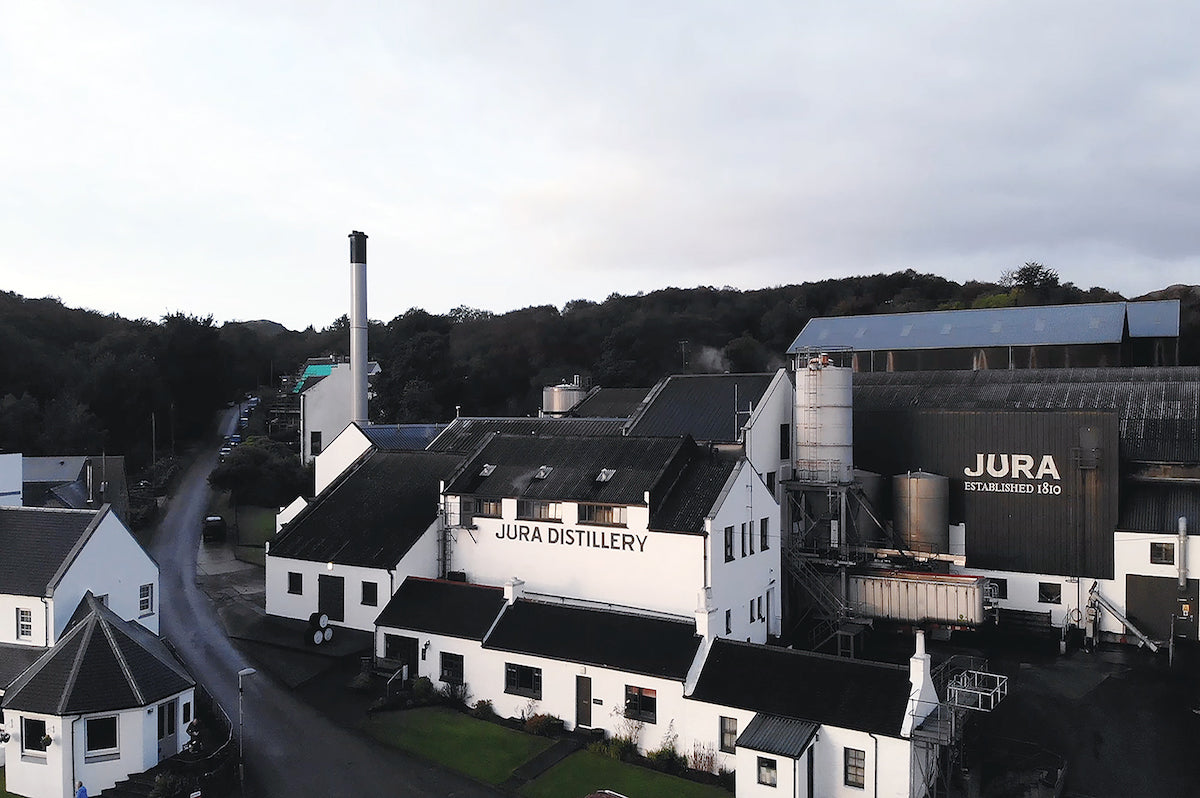 Join us as we hop on the boat to the wildly remote Isle of Jura, where this month's 21 Year Old Tide started life.
How deeply attached are you to your phone? The first time I travelled to Jura back in 2013, I was on a deadline, addicted to Twitter, and very much reliant on my smartphone. But an invitation to Jura's Tastival Festival, which runs alongside the Islay Festival of Music and Malt (or Fèis Ìle, as known by many), was too generous an offer to turn down. It would be a couple of days of multitasking, I told myself. Exploring literal new lands while juggling emails in the day and feature writing by night. Jura, an island I'd heard so much about, from its imposing mountains to sweeping beaches, to its teeming deer population to its famous visitors (George Orwell penned 1984 squirrelled away on the island), was too high on the bucket list to miss. 
Getting there was the first adventure. We convened in Glasgow Airport after a short, straightforward flight from London. From there, we bundled onto the diminutive white aircraft that would carry us on the short hop to Islay. It was only my third time on a tiny propellor plane. I think it holds about 30 passengers, so while not that small, you certainly feel every air pocket, updraft and gust as you swoop through the skies over Argyll and Bute. This second leg takes you to Islay, Jura's better-known, more densely populated sibling that lies off its south-west coast. Islay, home to nine working distilleries, a network of roads and multiple shops, feels almost busy in comparison. From this point, we hopped in the car and headed north east on the main road toward Port Askaig and the Jura ferry. 
You can see Jura long before you realise it. The horizon in front of you is dominated by mountainous undulations. On a sunny day you can make out purple-grey rocks, which give way to lush moss and golden grasses as you roll down from the peaks. These are the Paps of Jura, yes, named because of their shape. There are three of them, and they can be seen from across Islay, as well as from Skye, the mainland, and even Northern Ireland in good weather. It's only as you drop down into the serene ferry port that you realise how narrow the strip of water is between the two islands, and why the horizon seems to merge them into one. The slip of deep sapphire sea might only be 0.9 miles across, but it's home to some ferociously fast currents. This is not the spot for a swim.
The Jura ferry is small, nippy, and cuts across the currents in a flash of light blue, white and orange. It's more like a platform with an engine than a conventional ferry, zipping across with a cargo of foot passengers and a small assortment of road vehicles. If it reaches capacity, it'll just turn round and make a second journey, criss-crossing until everyone is where they want to be. It takes about ten minutes, depending on the tide, and on arrival on the Jura side, the boat simply sidles up to a concrete slipway, and off we drive. We're here! We're on Jura!
Jura has one major road. It winds round from the Feolin ferry point, through to Craighouse, the only village, around nine miles later. At this point I checked my phone. Nothing. The 'No service' display was almost taunting me. I popped it back in my pocket as we got our first view of the distillery, just to the left of the road, opposite not just the only pub, but a bay with stunning views back towards the mainland. This is the sheltered coast; waves here are gentle, the breeze light, and it's so, so quiet. I clocked an unexpected palm tree, strangely adding to the serenity. It won't be like this tomorrow, I'm told. When the Tastival gets underway, the island will burst into life. 
We made ourselves cosy in the distillery guest quarters, heard all about the island's history, and chatted and drammed until the early hours. At first light, we swam in the bay from the jetty, the sunlight dancing across the water and through the spray we made. As the cold water woke us up, so too was the distillery coming to life. Bunting was being stretched, music was playing, and visitors started arriving, fresh from the first ferry of the day. Still no service on my phone. At this point, the deadline seemed futile. 
After breakfast and once warm, we continued our journey up the only road. It stretches up the east coast past expanse after expanse of unspoiled white sand. Jura, we're told, is home to just 200 people and 6,000 deer. The natural beauty is intoxicating. It's like nowhere I've ever experienced before. I reach for my phone only to take pictures. We get to Inverlussa, a good 15 miles from Craighouse. We may have spotted seals. There's such joy as we settled for tea and cake on the beach. On the way back we stopped in at the church hall to take in a photography exhibition. Black and white pictures lined the walls, showing the people of Jura through the decades. A local man talked us through each one, individuals in the pictures becoming fully-formed characters. I realised how close this tiny community is, how stories are shared, and how lives are so wonderfully interwoven.
Back at the distillery and the activities were ramping up. We joined a tour. I got chatting to some visitors from Sweden, from Germany and from the US, all convened on this remote island for the love of whisky. As the evening drew on, we chatted and danced, visitors and locals alike. We shared tales, hip flasks and laughter. And I was grateful for that 'No signal'. I don't think at any time before or since have I ever lived quite so much in the moment, celebrating a distillery with its community. At times like that, deadlines really can wait. 
I've been lucky enough to return to the island three times since that trip. Phone addicts will be glad to know that 4G has arrived. I'm planning a return visit, this time to take in the fell running as well as the whisky. As soon as it's possible, I shall be back on that plane-plane-ferry journey. Go check it out, too!
Kristy