Sherry casks and Scotch whisky: a love story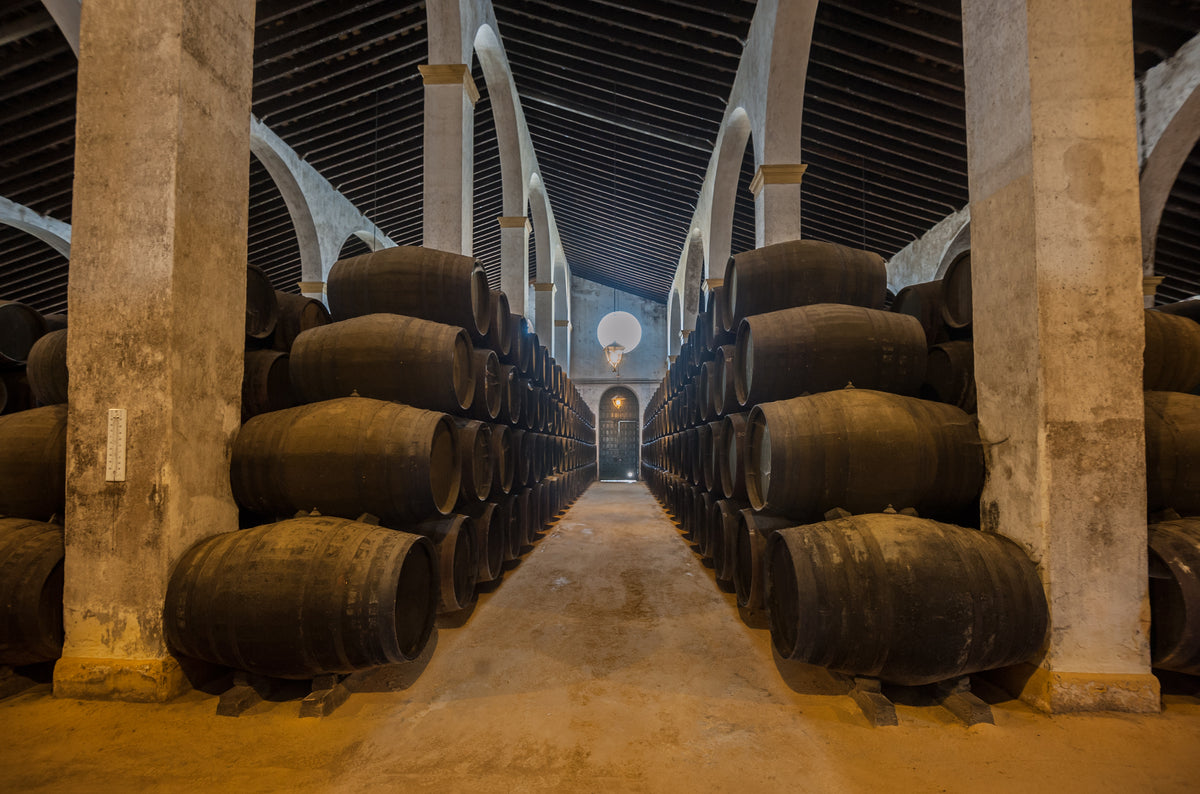 It just so happens that this month's selection wasn't just a spotlight on Islay whisky, but the delights of sherry maturation, too – so we're looking into the history between Scotch and sherry casks. 
Sherry is to Scotch what peanut butter is to jam (or jelly, if you're that side of the pond). That's to say, a delicious pairing, and highly associated with each other. As Laphroaig's David Miles joked with Colin Dunn in May's first live tasting, as Scotch whisky ambassadors they inevitably end up promoting sherry just as much as (if not more than) Scotch! So how did this dynamic duo come to be? With four whiskies out of this month's selection having spent time in an ex-sherry cask, go and grab a dram, get comfy, and prepare for a splash of history.
Sherry casks were first used in the whisky industry many, many moons ago not because they taste good, but out of necessity. From around the 16th century, sherry was shipped over to Britain and bottled here instead of in Spain. These 'transport casks' weren't worth sending back, so whisky producers took them to store their spirit in. In a serendipitous twist of fate, someone figured out that this combination worked rather well – much better than spare barrels that had held, say, fish. *Shudder*. (Having said that, a German bottle decided to take a trip into the past that nobody asked for, and finished a Bruichladdich single malt in casks which previously held herring. Make of that what you will.)
Unlike with whisky, sherry producers don't want a lot wood influence in the final product. While casks for whisky generally won't get past second- or third-fill, sherry casks are reused for many years (sometimes over a century) until they become totally unusable. So it was something of an issue in 1986, when it was decided by law that all sherry had to be bottled in the Jerez region of Spain. No more transport casks for Scotland. To adapt, whisky producers had the bright idea of paying their friends over in Spain to season casks with sherry for a year or two, and then ship them over – a practise that, unsurprisingly, is still going on today. The sherry serves a dual purpose: it seasons the cask (up to 10 litres of sherry can soak into a single barrel), and also takes out the harsh tannins found in fresh wood. This sherry won't be drinkable afterwards, and is often used to make sherry brandy or vinegar. 
So that's the history. But really, the term 'sherry cask' is immensely vague. The cask type (large butts or smaller hogsheads, for example), sherry variety (commonly Oloroso, though with sweeter Pedro Ximénez, dry Fino, and so many more), and oak variety are all factors to take into consideration. I often think back to the time when I visited the Lakes Distillery, and was (unknowingly) shown two ex-Oloroso whiskies – one matured in American oak, the other in European. When asked, I guessed the former was drawn from a refill ex-bourbon cask, because it was so much lighter compared to the dark, jammy-looking European oak-matured sample. 
It's not just colour – sherry-seasoned European oak (Quercus Robur) will hold more of those classic 'sherry bomb' notes that most whisky drinkers associate with the style: chocolate, spice, leathery tannins, dried fruit. Meanwhile your sherry-seasoned American oak (Quercus Alba) will indeed have soaked up the flavours of the sherry itself, though the wood imparts sweeter, creamier notes of tropical fruit, vanilla, and caramel.
That's all to say that, yes, sherried whisky is a well-loved style in and of itself (and for good reason), though next time you're enjoying one, why not find out the specifics if you can? Perhaps you really ought to call yourself a Fino fanatic, or Quercus Alba aficionado… 
Until next time,
Jess 🥃