Let's dive into December!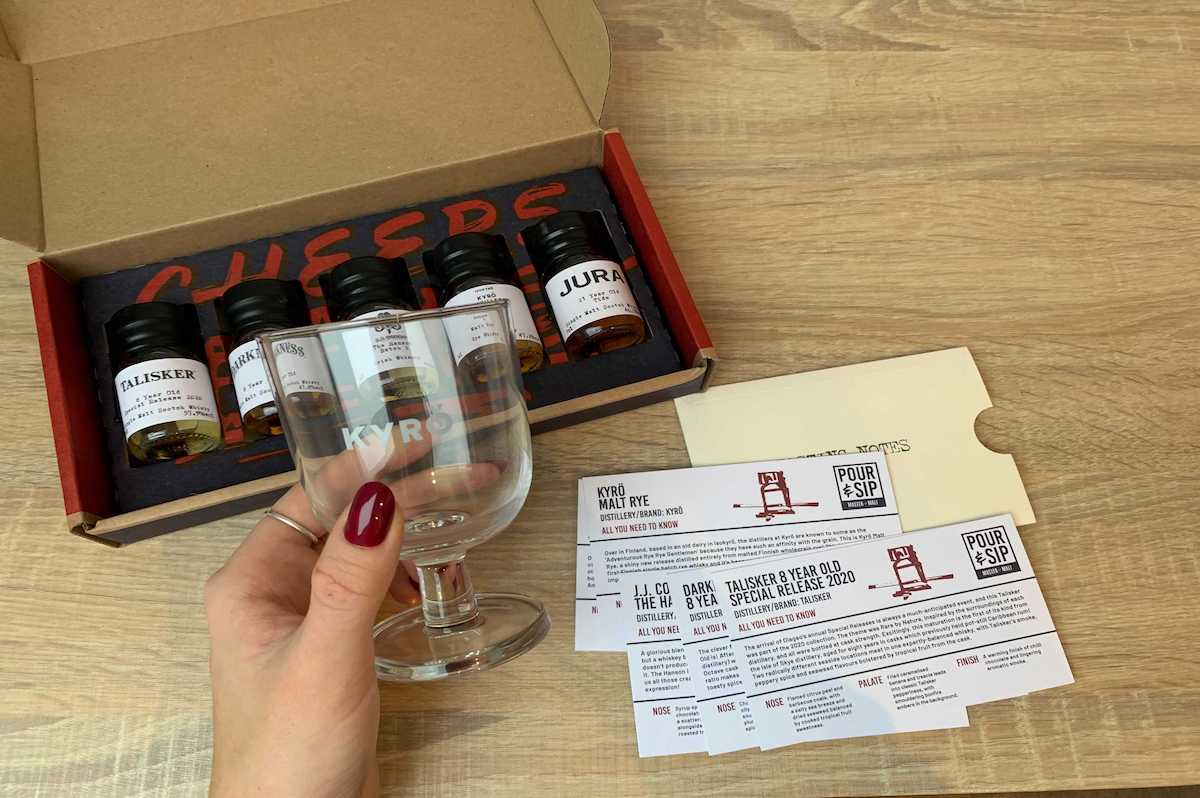 The festive season is officially upon us! Having said that, I don't know about you, but I put my tree and tinsel up in November. Why deny ourselves the joy of Christmas for any longer than necessary? But I'm getting ahead of myself – before Christmas comes around, we have something else to attend to first. And that's delving into December's Pour & Sip box! From mysterious sherried Scotch to glorious Finnish rye, it's another belter. 
If you've been with us for a while (sorry, newbies – you've been treated to the snazzy welcome pack this month) then you'll have noticed a little something extra with your box this time. We threw in (carefully, obviously) a gorgeous Kyrö glass for you to enjoy! It looks like just the thing to sip some warm, whisky-based cocktails from by the fireside. Don't know what I'm talking about? Maybe it's time to take a rummage through your recycling...
Right, onto the whiskies!
Talisker 8 Year Old (Special Release 2020)
Drinks giant Diageo bottles its themed Special Releases each year, and it's always much-anticipated. The 2020 collection's theme was Rare by Nature, inspired by the surroundings of each distillery and all bottled at cask strength – including this youthful Talisker. The single malt spent its entire maturation in casks which previously held pot-still Caribbean rum, which is the first release of its kind from the Isle of Skye distillery! Considering how well it's turned out, we don't know why these two seaside locations haven't met in one bottle before. It's all savoury coastal Talisker smoke and tropical fruit from the cask in this well-balanced whisky. 
Darkness 8 Year Old
If you like a little mystery to your whisky, Darkness has you covered, because the folks behind it will never tell which Scottish distillery they source the single malt from – though they sure know how to get the best out of a sherry cask! The whisky was initially matured in ex-bourbon barrels, and was then transferred to custom-made Oloroso sherry octave casks for at least three months before it was bottled. If you haven't heard of them before, octave casks are much smaller than your usual sherry butt. This increased surface-area-to-volume ratio amplifies the cask influence over a shorter period of time, so you'll enjoy heaps of chocolate, red fruit and spice in here!
J.J. Corry The Hanson – Batch 2
Over in County Clare, Ireland, you'll find J.J. Corry. It isn't a distillery, but a whiskey bonder – the first new bonder in Ireland for over 50 years! – which means that it doesn't produce the liquid, but instead sources it from all over the country, then matures, blends and bottles it itself. This is the second batch of The Hanson, a blended grain whiskey, and this particular release was a blend of three casks from a selection of Irish distilleries. If you like your whiskies slightly lighter, full of buttery, tropical and vanilla notes, this will be right up your street!
Kyrö Malt Rye
We look to Finland for our next whisky, more specifically an old dairy farm in Isokyrö, where you'll find the Kyrö distillery! The folks at the distillery are even known to go by the name of the 'Adventurous Rye Rye Gentlemen' because they have such an affinity with the grain, and this is their newest release, Kyrö Malt Rye. It's distilled entirely from malted Finnish wholegrain rye, and is actually the first Finnish single batch rye whisky. Its entire ageing was spent in new American white oak casks, and this particular wood type imparts some creamier notes to balance the more herbaceous, spicy flavours from the grain. 
Jura 21 Year Old Tide
Jura is one of Scotland's Hebridean Islands, and the scenic destination boasts just one road, a larger population of deer than people (which is either awesome or terrifying, you decide), and just one distillery! This is Tide, a 21-year-old single malt that's been through a dual maturation. First, it was rested in American white oak bourbon barrels, which is where it gets its oodles of vanilla and caramel flavours from, after which it was transferred to virgin American white oak casks, which is where the slightly spicier nuances come from. Proof that Scottish Island whisky isn't always packed full of peat – though you will find subtle suggestions of smoke in here. 
That's it for now, though we've got some exciting stuff coming up on the blog this month. I'll be taking a closer look at grain whisk(e)y, while Kristiane will be looking back on her trip to the gorgeous Jura distillery. Oh, and there's even a festive interview to look forward to – you didn't think I'd miss out on getting into the Christmas spirit, did you?! 
Jess 🥃