A nose around November!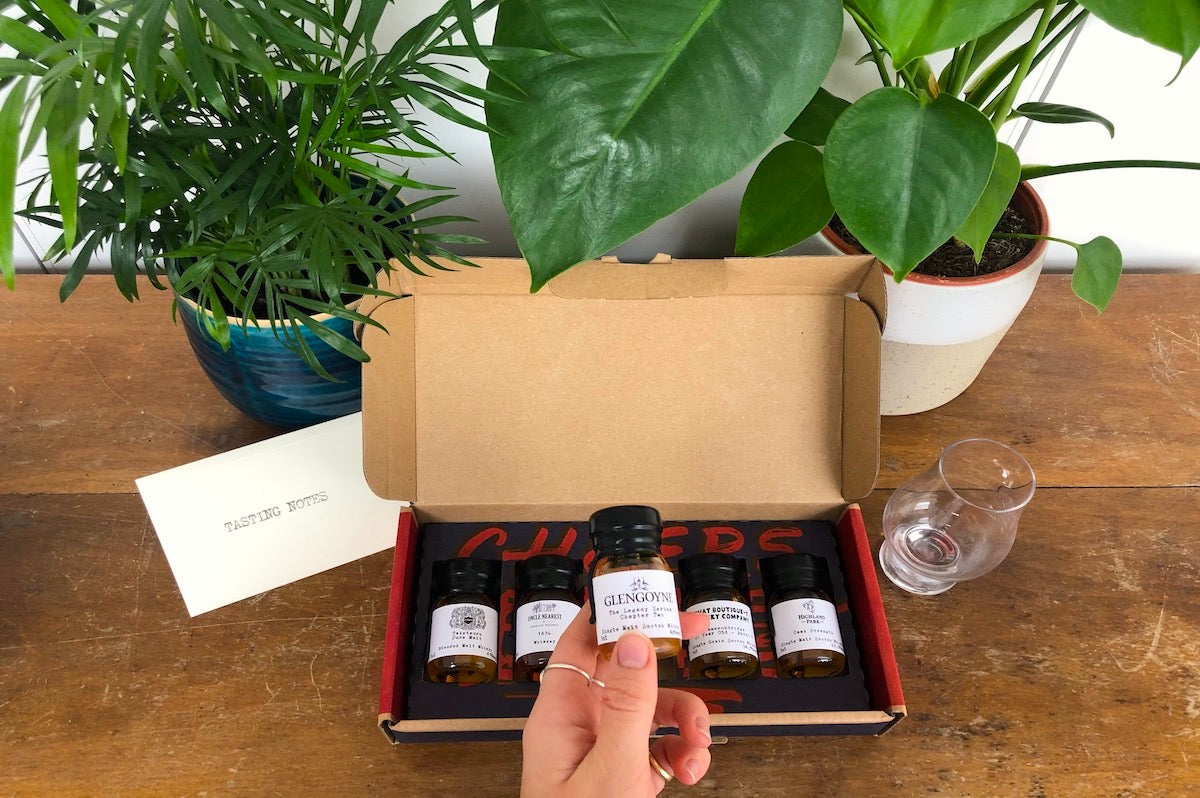 I know what you're all thinking – how is it November already?! My sentiments exactly. Among all the chaos of the moment there is one thing that has perked up the first few days, and that's getting the latest Pour & Sip box through the letterbox! You know the drill by now – it's time for another unboxing...
Cameronbridge 27 Year Old (That Boutique-y Whisky Company) 
This superbly well-aged single grain whisky was distilled at Cameronbridge, built over in the Scottish Lowlands back in 1824 by John Haig – it was actually one of the first distilleries to produce grain whisky! After its 27 years of ageing, it was bottled by That Boutique-y Whisky Company, an independent bottler that rounds up limited-edition whiskies from a whole series of renowned distilleries, just like this one. Lots of Cameronbridge whisky ends up in blends, but once you've tried this buttery expression in all its grainy glory, you'll wonder why!
Glengoyne The Legacy Series Chapter Two
Scotland's Glengoyne distillery decided to dedicate a series of whiskies to different elements from its own history, calling it The Legacy Series! This is Chapter Two which honours Peter Russell, chairman and founder of Ian Macleod Distillers, which bought Glengoyne in 2003. The bold, fruity character the Highland distillery is known for is very much present here thanks to a trio of cask types, with 17% of the whisky from first-fill sherry casks, 48% first-fill bourbon barrels, and 35% refill oak casks. Fun fact: Glengoyne boasts the slowest stills in Scotland! A slow distillation encourages esters to form, a compound which brings bright, sweet fruity notes to the spirit. 
Nikka Taketsuru Pure Malt
This Japanese malt whisky is named after Masataka Taketsuru, who not only established Nikka in 1934, but is also generally regarded as the founding father of Japanese whisky itself! This no-age-statement expression showcases whisky from Nikka's two distilleries, with the majority made up of spirit from the Miyagikyo distillery based over in the Miyagi Prefecture. A smaller proportion is whisky from Yoichi, which unlike the former spirit, is peated. These two whiskies, plus some sherry cask maturation, make for a spicy, smoky, fruity delight.
Uncle Nearest 1856 Premium Whiskey
This Tennessee whiskey is rooted in history, with the Uncle Nearest distillery named after Nathan Green, known as Uncle Nearest by family and friends. Green was the first known African-American master distiller in the US – he even taught a young Jack Daniel how to make whiskey. This is the 1856 expression, made up of 84% corn along with some spicy rye, too. Tennessee whiskey is unique because it's put through the Lincoln County Process, where the spirit is filtered through charcoal before ageing in new American oak, just like this whiskey has been!
Highland Park Cask Strength
This smoky whisky comes to us from Highland Park over on the Orkney Islands off the northeastern coast of Scotland. Orcadian peat is pretty unique because it's made up entirely of sphagnum moss and heather, and the hallmark flavours are an aromatic, floral smokiness. Highland Park matures its whisky exclusively in sherry casks and this is no different, aged in sherry-seasoned American oak. They didn't mess around with the name for this one, and the Cask Strength expression was indeed bottled straight from the cask with no dilution at a rather generous 65% ABV. A splash of water may help to open up this whisky, packed full of sherried spices and floral smoke!
Keep your eyes peeled on the blog this month as we delve deeper into Japanese whisky and look back on the time we popped over to Highland Park! Oh, and we've got another treat of an interview for you too, but you'll have to wait to find out more about that one...
See you then!
Jess 🥃