A chat with Laphroaig distillery manager John Campbell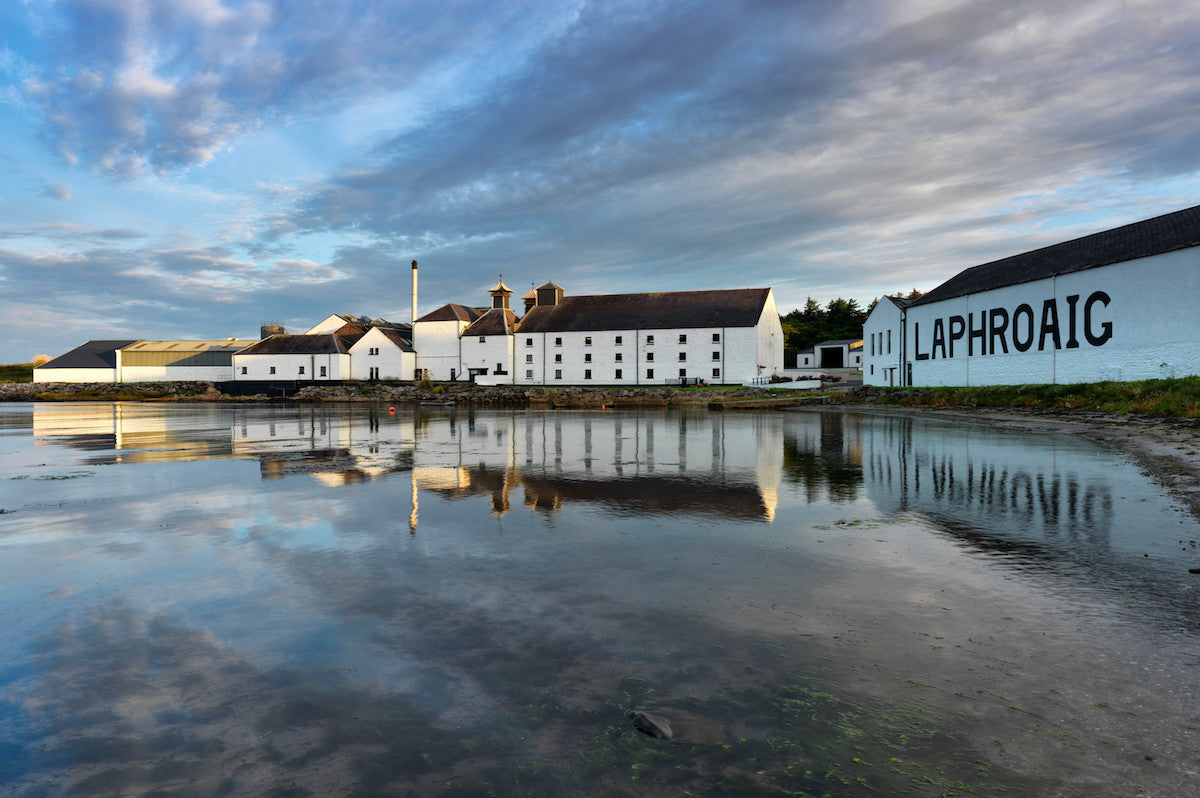 I was absolutely thrilled to grab a moment with John Campbell this month, Laphroaig's longest ever serving distillery manager. Who better to talk to about the gorgeous 12th batch of 10 Year Old Cask Strength that was in your boxes this month? From the whisky itself and what makes Laphroaig special to his past career as a lobster fisherman, we covered it all! 
Pour & Sip: Hi John! Thanks for chatting with us. Could you start by taking us through the history of Laphroaig? 
John Campbell: OK. So Laphroaig started off legally in 1813, then before that it was two brothers that came over to Islay in the late 1700s, Donald and Alexander Johnston. And what they did, there was a farm and with their spare barley in the winter they made whisky because this technology had arrived, it had come up through Ireland I think, a few hundred years before. But there was lots of distilleries on the island, probably because we were so far away from the tax man that it was just a wee haven! So Laphroaig was very small at this point, then tastes grew, then blends started coming to the fore in the mid 1800s. At this point it was Dougall Johnston that was in charge and he really wanted to, like everyone I guess, stamp his own authority on the distillery and he took matters into his own hands and really pushed to drive Laphroiag forward. 
It then moved to the late 1800s, and Sandy Johnston and he started maturing on the island and this was the new technology at this point, to start to mature your whisky. So we built warehouses on the island, moving into the new century. I guess the easiest way and the best way to describe Sandy is he was complicated. He had maybe three or four relationships on the go when he passed, so there was a lot of people looking to claim this distillery! So Katie Johnston and Isabel Hunter kind of joined together and ran it and then it moved over to Hunters who were part of the Johnston family. And Ian Hunter then took over, who was Isabel Hunter's son and he really took Laphroaig from being, at this point, the smallest distillery on the island to become the biggest, definitely from a single malt point of view. And so just really invested in infrastructure, built up the floor maltings, kind of expanded the famous number one warehouse at Laphroaig and a lot of the structure you see at the distillery to this day is Ian Hunter's investment in the 1920s, so he has left a lasting legacy. 
And then Ian kept going until the 1950s and then we had Bessie Williamson take over. Bessie had a huge influence on Laphroaig as well, and on the industry. So she was, I think she was the only female owner-distiller in the 20th century. She did a lot of work for the Scotch Whisky Association promoting single malts and Scotch whisky, mainly in the Americas - North and South America. So she had a global role for the Scotch Whisky Association as well, and she was just a great lady. Influenced Laphroaig as well, put in the big still at the end so it slightly changed the way we produced the whisky, and we've kind of stayed the same since, production-wise. We've been part of a few bigger companies since then but that's the main points of Laphroaig's history there. 
P&S: Wow - that's amazing! So a lot of people would immediately associate Islay with simply 'smoke' or 'peat'. To someone who hasn't drunk it before, how would you say Laphroiag sets itself apart from other distilleries?
JC: I guess it's peaty but it's a definite type of peaty as well. And yes, you get Islay peat but there's two flavours that you would get in a Laphroaig that you'd maybe not get in other Islay peaty whiskies. It's called 4-ethylphenol and it's a different type of smoke flavour, we have more of that and then we have guaiacol. It feels like it's just a more florally peat, I guess, and the guaiacols are just kind of oily, tarry… it feels like licorice root at the back of your throat, or maybe like a bitter dark chocolate. That's the two flavours you get from Laphroaig peatiness that you don't get from any other Islay whisky or any other peaty whisky. 
P&S: I love that description! Well, the reason that we're talking today is that in this month's Pour & Sip box we had Laphroaig 10 Year Old Cask Strength, the 12th Batch – could you talk us through expression, and the bottling series itself?
JC: Yes, absolutely. We're trying to do small amounts of cask strength whisky from different parts of our warehouse basically, to be able to show consumers that even from within the same warehouse at a different level you will produce a slightly different whisky, and so we've managed to do that with the 12 batches so far. We've got nine or 10 different warehouses at the distillery, so top to bottom there's different temperature profiles as well. So with Batch 12 we have taken from the very top of one of our newer warehouses, Warehouse 11. What happens up at the top of warehouse is you will lose volume, but you won't lose alcohol. Whereas if you go to the building that's got 'Laphroaig' written on it - our famous Number One Warehouse - the walls are three foot thick, the temperature profile doesn't change much inside this warehouse, summer to winter. So you don't get much of the liquid driving in and out the wood. 
So you don't get so much colour coming from your wood, you don't get so much of the spice coming from the wood as well. Whereas in Warehouse 11 here, the colour is very dark, it's really warm up at the top of this warehouse so it's really driven in and out the wood. There's a nice fruity nose on it as well, I feel. What also happened with this one is, there's a nice kind of vanilla note and on the nose of this one, even though it's our highest alcohol release because we've been up at the top of the warehouse here, it doesn't feel as prickly as you'd expect with a cask strength whisky. 
One of the other things I find slightly different about this one is it doesn't smell really peaty. You get fruit, you get vanilla, you get almost a groundnut flavour coming through; a wee bit kind of oily. And just a gentle wisp of peat. Whereas when you taste it, the peat is absolutely there, it comes in spades! And the balance is fantastic in this one. If you even go back to Batch 11 it had quite a big cask influence on it so you tasted more of the wood flavours. So it was very dry, it was quite high in a white pepper feeling on your palate. I know a lot of people love that feeling so if you like that one you might not like this one so much, just because it's got more balance in it. But equally that's the great thing about the batches, they are all different, they are all coming from different parts of the warehouse. But one thing you should be absolutely guaranteed is lovely Laphroaig-iness in all of them. 
P&S: Yes, it is such a gorgeous dram, and it's tied in so well that you've touched on maturation in the different warehouses, because we even touched on that on the blog this month! So we'd love to hear a bit about you – you've been at Laphroaig for over two decades, is that right?
JC: That's right, 26 years, more than half my life now so it's a wee bit strange to say that!
P&S: Wow! Could you tell us the story of how you got into the whisky industry?
JC: So I started off doing a bit of college, engineering, stuff like that. And then decided 'nope' went back to Islay and then became a lobster fisherman, and that was a really good job, making lots of money at that time but I wanted to buy a house and I went to the bank and they wouldn't give me a mortgage because I was self employed. And I thought 'right, well I want a house' so then I kind of thought 'well I probably want to stay on Islay just now as well'. And then I thought 'well I'll get into the whisky industry, that seems pretty steady', Laphroaig seemed the biggest brand on the island, on 1994 it probably was Islay single malt in a nutshell. So I thought 'yep, I'll go for that one' it seemed the strongest brand, it had the strongest past so I was hopefully thinking 'well it's got the strongest future'. Took a paycut of more than half and started at the distillery! But I could get a mortgage now… it didn't compute with me how I could get less than half the money but get a mortgage from a bank, but hey! 
So I got my mortgage, got my job and I guess I'm curious by nature. I ask 'why?' quite a lot which may be a pain to some people! But I'm just curious, so I wanted to understand why this whisky tasted this way, because in my early 20s I could not drink Laphroaig. As I looked around me and I thought 'well, the bottom half of Islay is all peat beds, so it's right beside the sea and we're using these bourbon barrels, well it has to taste this way'. The way we do the floor maltings, the way we distill, all of these features that make Laphoaig slightly different, they are all in the taste, so it tastes the way we make it - so I just needed to understand, just going into more and more detail all the time and then eventually just growing to love, especially the 10 year old. It's without a doubt my favourite whisky and it very much represents the area as well I feel. I just kept asking questions, people kept trusting me and giving me new jobs and I eventually ended up running the place! So 2006, January 19th, I became the distillery manager and became the first Ileach to run the distillery - so I'm a native of Islay, so that's a Ileach. And then now the longest ever serving distillery manager, so that's pretty cool as well. 
P&S: That's a fabulous story! Can you tell us about anything exciting in the pipeline that we can look forward to?
JC: Well we do have slight bits of innovation every year but I guess the main thing is to keep Laphroaig Laphroaig, and that's the day job. But we do have innovation coming every year. We have a new Batch 13 to prepare, and then a new 25-year-old cask strength as well. So there's always bits and pieces. There is some other innovation around the 10 year old that we'll show people next year as well, so we might find some wee bit of sherry influence coming in the near future that people can try small batches of that. 
P&S: Exciting! We'd love to know, what's your favourite way to drink Laphroaig?
JC: I like to try new things and be curious about cocktails especially and the craft that goes into it, and the creativity that the bartending community has. Most of the community like Laphroaig as well because of the challenge! It's like 'how do I get Laphroaig into a cocktail and make it taste amazing, look amazing and be balanced?' because of this big peaty powerful monster. Lots have done it, there's Penicillins with Laphroaig Select, amazing. Really amazing. Especially in the summer when it's nice and warm, or hot, which is a rarity on Islay but sometimes it happens! So a Penicillin would be lovely and cool and very, very refreshing as well. Even just a Rob Roy - a really simple cocktail - works really well, especially coming at this time of year as well. But yeah, I'm open to try, definitely open to trying cocktails and trying different things because I just love the creativity in all of these things. 
P&S: And just to finish off, because sadly there's not much chance that anyone is going to get to visit Islay any time soon, could you describe it to someone who has never been? Take us there through words!
JC: I think first thing you should hopefully and certainly receive is a very warm welcome. I think the people, the community, is very open and very receiving and that's definitely one of the positives of Islay. The island itself, the geology from north to south is very different. If you look at the middle to the north, that's the bread basket of the island, this is where most of the crops will be growing, it's greener. Down the south from Bowmore down Laphroaig, Lagavulin and Ardbeg it's peat beds, it's heather growing, roads almost running through the peat beds and you come down and the distilleries are all by the sea, due to the travel routes in the day when these distilleries were built were all by sea. You get the kind of maritime influence and then you've got all the heathery beds and peat beds. It's basically a peat bog so when you go to stake your claim you've got to make sure you've got a lifebelt with you and stuff like that so you don't get lost! You're going to need your wetsuit to go out to get your rent, but lots of people put on their welly boots and have a bit of fun as well. And then the whisky is amazing. It really is. And there's so many amazing whiskies on the island. So I think… you don't come to Islay for the weather. And equally it can be passed in 30 minutes, so you need all of the clothes with you when you come to Islay as well. But I would hope it's warm, it's welcoming, amazing whiskies and you just have hopefully the time of your life. 
It was such a joy to chat all things Laphraoig and Islay with John, and it's safe to say that Islay is at the top of my bucket list now. What did you think of Batch 12 in your boxes this month? Let us know on social! 
Happy sipping! Jess 🥃