The latest themed July Pour & Sip box!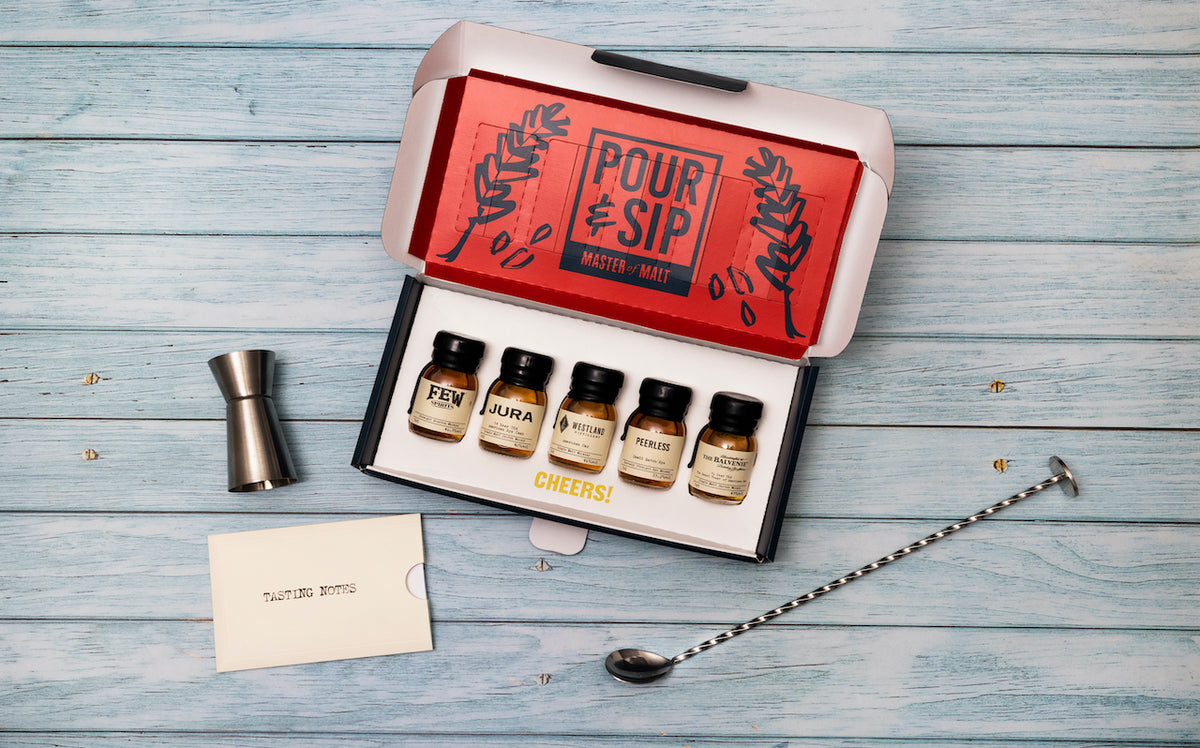 We love a themed box, and know you do too! With the month of July comes a celebration that we can't ignore – of course we're talking about the 4th of July, American Independence Day. The country has so much to offer in terms of whiskey (way more than just bourbon), but in this box we thought we'd spotlight some American cask finishes and oak varieties on other types of whiskies, too. 
FEW Bourbon
Based in Evanston, Illinois, you'll find FEW Spirits, spearheaded by founder Paul Hletko. Just outside of Chicago, Evanston isn't the most likely place for a distillery in the USA, seeing as it was the home of Prohibition. FEW is also the initials of Frances Elizabeth Willard, a key figure in the Temperance Movement, which, Hletko maintains, is a total coincidence. Although Prohibition was repealed in 1933, it remained a community, which made FEW the first distillery in Evanston since Prohibition when it opened in 2011. This is the flagship bourbon from the Illinois-based distillery, produced from a mash bill of 70% corn, 20% rye, and 10% malt, aged in barrels made from charred Minnesota white oak. The distillery prides itself on being grain to glass, producing all of its whiskey (and gin, as it happens) under its own roof.
Peerless Small Batch Rye
Released in 2017, Peerless Small Batch Rye saw the first release of a whiskey distilled under the Peerless label since Prohibition. The Peerless history goes back to 1899, when Kentucky bourbon pioneer Henry Kraver purchased the brand. War and Prohibition saw that the business went bust, until it was revived by Kraver's great-grandson, Corky Taylor, in 2014. The Taylors constructed a distillery in an abandoned 115-year-old tobacco warehouse in the Bourbon District of downtown Louisville. This particular rye whiskey doesn't go too heavy on the signature grain, so while it showcases all the hallmarks of a classic rye, with warming spices and just a touch of herbaceousness, it also allows the buttery, sweet notes from the corn in the mash bill to shine. 
Westland American Oak 
Here is the flagship release from the Seattle-based Westland distillery, founded back in 2010 – it's an American single malt initially released in June 2014. Barley is a big thing for Westland, with its choice of malts inspired by Pacific North West beer culture. For this particular release, five different types of barley are used: Washington Select Pale Malt, Pale Chocolate Malt, Brown Malt, Munich Malt, and Extra Special Malt. Of course, being inspired by beer, yeast is important too, and Westland uses Belgian Saison brewer's yeast (which imparts gentle citrus and red fruits, as well as dry baking spices) in a slow, lengthy fermentation. Once distilled, this particular whiskey is matured in new American oak and first-fill ex-bourbon casks. Thanks to the combination of malt varieties, yeast, and casks, it's a rich whiskey full of chocolate, dry oak, and tart fruit. 
Jura 14 Year Old American Rye Cask
A hot-off-the-press release from the wonderful Jura, this is a pretty unusual Scotch whisky, finished in casks which previously held American rye whiskey! Initially, like all Jura spirit, the single malt is matured in American white oak ex-bourbon barrels, before being moved to the aforementioned ex-American rye whiskey barrels for a short finishing period of around six months. The cask recipe imparts balanced layers of vanilla, caramel, and tropical fruit, with the rye whiskey in particular adding notes of cinnamon, chocolate, and honey, making it a perfect evening sipper. The distillery itself is found on the Isle of Jura, a 30-mile-long island with just one major road, one village, and one pub, as well as its one distillery, with a larger population of deer than people to top it off.
Balvenie 12 Year Old - The Sweet Toast of American Oak
The Balvenie Stories range was released in early 2021, and this is the introductory release from the series, called The Sweet Toast of American Oak. The range was created to spotlight events and people in Balvenie's past and present – this one celebrates apprentice malt master Kelsey McKechnie, and her (very good) idea to import virgin oak barrels from Kelvin Cooperage in Louisville, Kentucky, and deeply toast them at the distillery's cooperage. Balvenie's ex-bourbon oak aged whisky was then filled into said casks for a finishing period. The result is a sumptuously sweet, vanilla-forward Scotch single malt.