Let's open up October!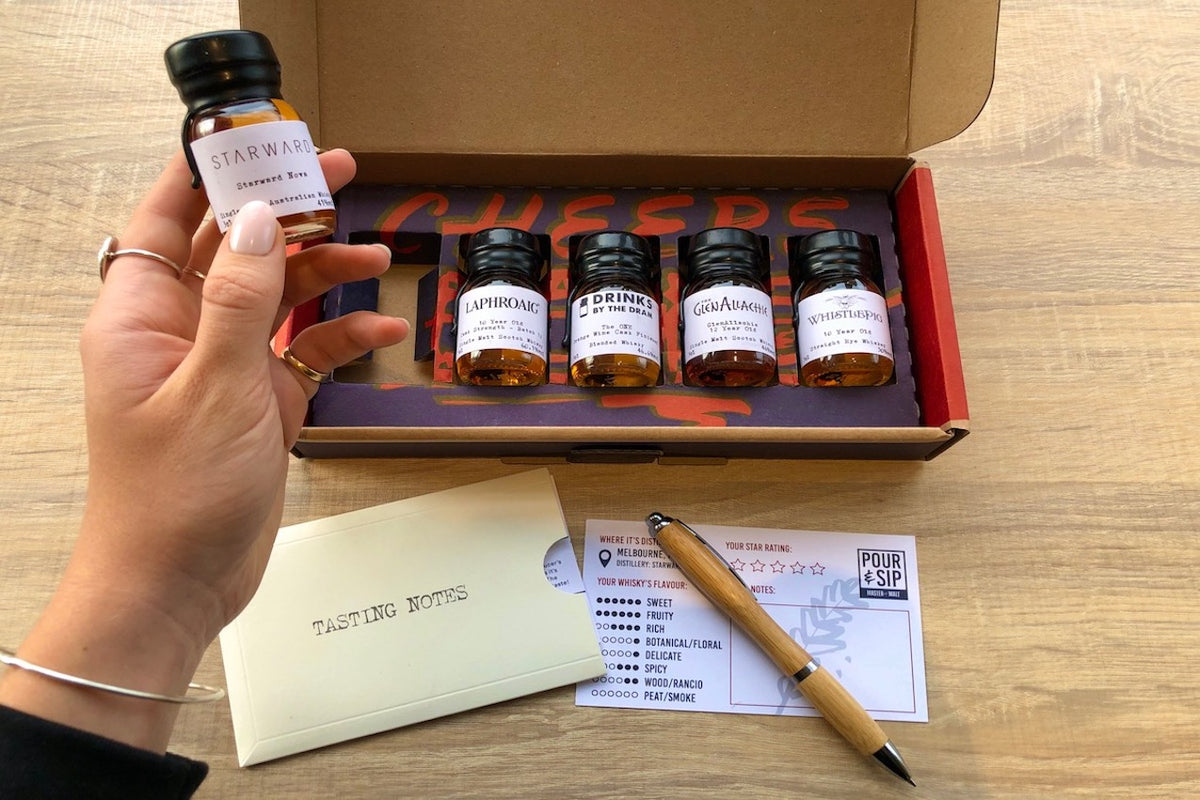 Another month, another awesome line-up of whiskies in your Pour & Sip box! This month we've got expressions from England to Australia, and everything in between. I can't wait to get stuck into this one...
Starward Nova
The Starward Distillery is here to put Australian whisky on the map. Founded in Melbourne in 2016, Starward has taken advantage of the country's association with its fabulous wine. For its Nova release, it has matured its spirit  in casks which previously held Australian Shiraz, Pinot Noir and Cabernet. The temperature change in Australia not only throughout the seasons but in a single day is extreme (keep an eye on the Pour & Sip blog for more on cask maturation later!), which causes the casks to 'breathe' and allow the spirit to interact with the wood much more, picking up some of those bold, fruity notes left in the casks by the wine!
GlenAllachie 12 Year Old
Back in 1967, GlenAllachie was initially built to produce whisky for blends, but as you can see with this fabulous release that's no longer the case! Bought by whisky distillery entrepreneur Billy Walker in 2017, the Speyside distillery has made a name for itself with its brilliant single cask expressions. This 12 year old is packed full of sherried deliciousness having rested in Pedro Ximénez and Oloroso casks, as well as virgin oak, with the latter adding those tropical, vanilla-forward notes among the sherry chocolate and spices.
Laphroaig 10 Year Old Cask Strength – Batch 012
There's a reason the Laphroaig Distillery has developed such a loyal following, with its liquid embodying the essence of coastal, smoky, medicinal Islay whiskies! Its 10 year old Cask Strength bottlings are incredibly popular, and seeing as we've got the 12th batch here that doesn't seem too surprising. Because it's cask strength, it's been bottled without any dilution, straight from the bourbon barrels it spent its decade of ageing in. Weighing in at a generous 60.1% ABV means it's packed full of bourbon sweetness alongside the more savoury smoky, coastal notes, though a splash of water wouldn't go amiss!
The ONE Orange Wine Cask Finished
An unusual cask finish if ever I saw one from the Lake District's own Lakes Distillery! Master blender Dhavall Gandhi is a flavour fanatic, having taken the distillery's own blended whisky The ONE, with its own single malt at its core alongside Scotch grain and malt whiskies for the base of this expression. The orange wine is made by macerating Andalucían oranges, and was then used to season first-fill American oak casks, after which this whisky was rested inside. You can expect lots of oily orange influence among the tropical notes from the wood in this unusual English whisky!
WhistlePig 10 Year Old
WhistlePig has become something of a staple for American rye whiskey lovers, with the distillery based at a farm in Vermont! While it's working on achieving a 100% grain-to-glass whiskey, currently it's blending its own spirit with rye bought in from Canada. As well as hallmark spice, rye often gives a distinctive herbal, somewhat minty flavour profile to a whiskey. This 10 year old is a gloriously rye-forward bottling to sip on, and I can't wait to see what else is to come from the experimental distillery.
Let me know what you think of this month's spread over on our social channels! Keep an eye on the blog for the rest of the month as we explore factors that influence cask maturation, a spotlight on WhistlePig and even another exciting interview… 
Until then, cheers!
Jess 🥃