Compass Box founder John Glaser on why grain whisky is (and has always been) worth your time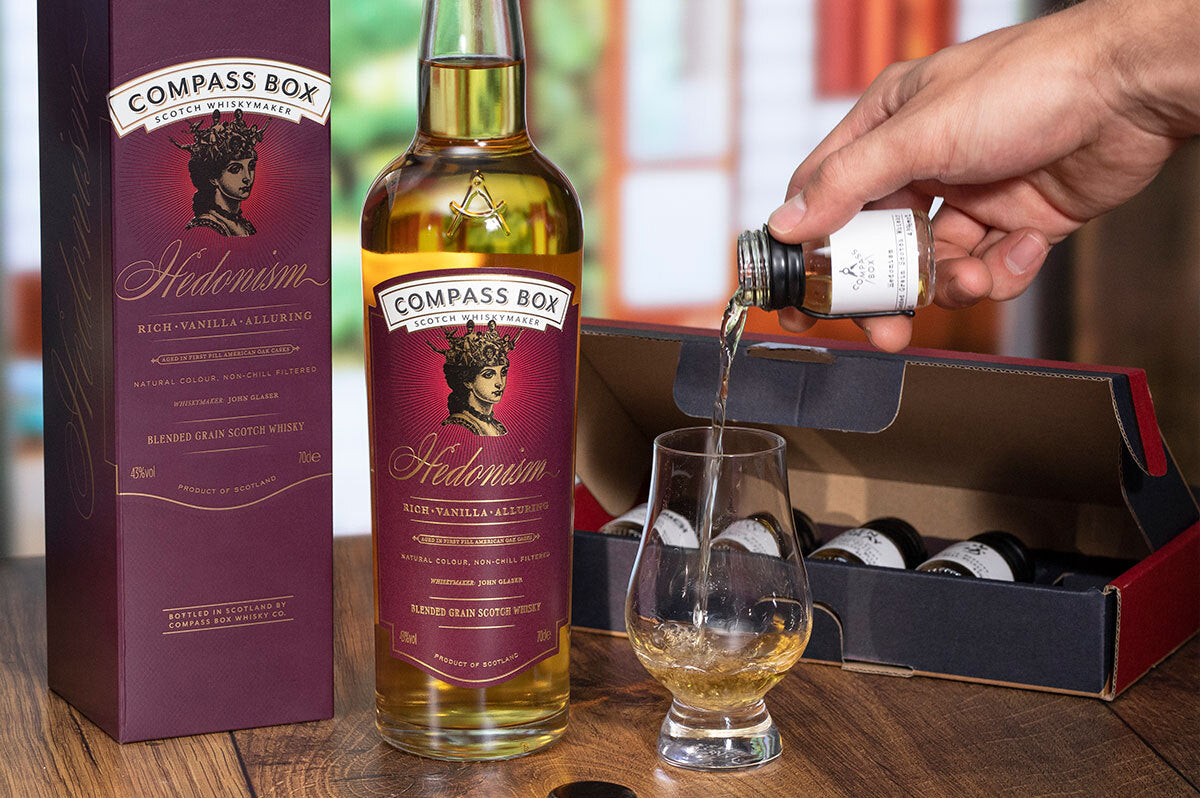 We had an awesome chat with John Glaser about the changing landscape of the whisky industry, the role of grain whisky in Compass Box's inspiration, and his inaugural release 20 years ago, Hedonism.
Cast your mind back to the year 2000. It's safe to say that the world has changed in many ways since then, but when I'm chatting to John Glaser, founder of Compass Box, he's specifically seeing things through the lens of drinks: "The Scotch whisky landscape, and the spirits landscape, frankly, was much different than it is today."
Compass Box was born out of a want for something better – but whereas nowadays that's a desperate grasp for a USP, back in 2000 there really was nothing like Compass Box. "I decided that the world needed somebody to start thinking differently about Scotch whisky and trying to make it a more interesting place," Glaser begins. 
Though he worked at Diageo before Compass Box, Glaser was inspired by the wine world, and used it as a mirror to hold up and see what was lacking in the whisky industry. "No one talked much about the provenance of casks – being inspired by the world of wine, I knew we needed to think differently." 
So what did he do? "I approached the world of Scotch whisky like a wine geek would." Meaning, a great emphasis on wood, the art of blending, and provenance. Whisky brands boasted old, tired taglines about the way their whisky was produced, which was often 'the way it's always been made' – vague, and likely untrue. Glaser wanted to give power to the consumer through information, being "more open about what we're trying to create here and why," he tells me.
The openness and plethora of information that goes with Compass Box's whiskies helps customers decide for themselves. "In a world today when there are distilleries popping up like mushrooms after the rain – which is a good thing, and something I'd always hoped to see – if you're a whisky enthusiast, how do you make decisions about which one to buy? You can't try everything." 
Compass Box has often ruffled feathers and made headlines because of Glaser's calls for transparency in the industry, but at the end of the day it's all about making life easier for the consumer. The rest of the industry is now catching up by shifting whisky's musty, mysterious, and generally unapproachable image.
It was Glaser during his time at Compass Box who coined the term 'whiskymaker', describing it as more than a blender, but clearly not a distiller. It's a whiskymaker's job to look at whisky through the lens of a creator, and identify complementary flavours to build something new and delicious. "Part of that journey was understanding the role of grain whisky," Glaser reveals. 
Back in 2000, grain whisky was hardly a twinkle in anyone's eye – except Glaser's (and a select few others). Grain was seen as a filler for blends, and nobody saw its true merit. Though this isn't just because the liquid wasn't reaching people's glasses, but because, as Glaser honestly exclaims, "most grain whisky then was just really boring!"
Grain whisky, which is a lighter spirit than malt whisky to start with, was unfortunately being filled into used wood, which imparts little to no character. No wonder people thought that grain whisky didn't taste of anything. "You put good grain whisky spirit into an active cask, like first-fill American oak barrels, re-charred hogsheads, you can get these lovely, beautiful, luscious, approachable whiskies," Glaser enthuses. The first grain whisky to get Glaser this excited was a 12-year-old, American oak-matured Cameronbridge that he tried while he was working on Johnnie Walker Black Label. The cogs started turning, and he suggested bottling this wonderful liquid – but "no one had the courage".
So, armed with bucketfuls of knowledge and a passion for making the industry better, Glaser launched Compass Box in 2000. He kicked off his brand Hedonism, a blended grain, but none of the big names would help him out in finding grain whisky to bottle in its own right; Glaser had to go to small companies and brokers.
The first batch of Hedonism was made with old stocks from lost distilleries – the likes of Cambus and Caledonian, to name a few. Making a whisky with stocks from closed distilleries seems like a hard game to play, given that these stocks are, by nature, finite. But like any good blend, Hedonism has remained consistent throughout the last 21 years, so I asked Glaser how he's managed it. The answer is, yet again, wine. "We no longer draw from those lost distilleries, but the style now is consistent with what that first bottling was like. We know what kind of characteristics we're looking for, and we can find that in other distilleries." His analogy from the world of wine? "Your Pinot Noir might be known for a particular style, but it doesn't mean you always have to draw it from the same vineyard."
Glaser's enthusiasm for grain whisky is infectious, though he's somewhat preaching to the converted with me – but I wonder how far he thinks the movement for grain whisky has come. "Whisky enthusiasts and businesses are interested in it," he says, "but if you step back and measure it on a scale of the industry, it's hardly moved at all." Nonetheless, he remains optimistic about the grain whisky movement: "It's moved enough for me."
He mentions Haig Club, a product where he believes the brand matters more than the product itself. Glaser recognises that when you mention grain whisky to a non-enthusiast, it's likely the first name that will pop into people's heads. He's not dragging it through the mud by any means, but rightly affirms that it's not comparable to what he's doing with Compass Box. 
If grain whisky still has obstacles to overcome, blended whiskies have to jump one step higher. "Once good grain whiskies capture people's imagination, and they like it on its merits, then I ask people to stop and think: what if a producer were to use this calibre of grain whisky in a blended Scotch?" For him, it's merely a question of getting the right product into the hands of the right people (aka, anyone who really likes whisky). "People think blended Scotch is inherently bad or boring, but that's only because the component malt and grain whiskies used to make it were bad or boring. Think of what the blended Scotch whiskies could be!" Bring two great things together, and why wouldn't they be greater than the sum of its parts?
If there's one thing to take away, it's his final words to me: "Grain whisky is not neutral – it doesn't have to be a filler." On that note, I think I'll go crack open my dram of Hedonism…