Celebrate women in whisky and St. Patrick's Day with us!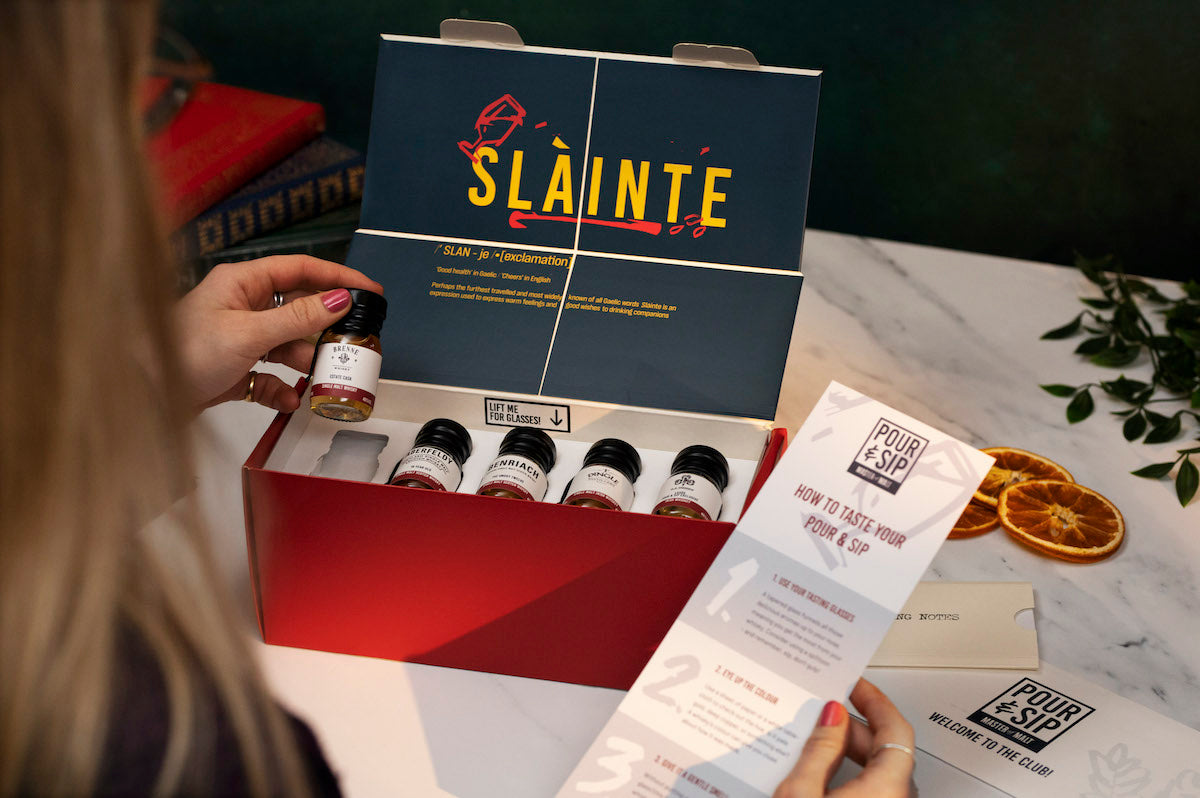 There's lots to celebrate this month! On 8 March it's International Women's Day, while on 17 March we've got St. Patrick's Day. We couldn't pick just one day to focus on in this Pour & Sip box, so we've gone ahead and picked some excellent whiskies that nod to both days – and here they are... 
J.J. Corry Lasóg - Pour & Sip Exclusive
​​It's our very own exclusive whiskey from our friends over at J.J. Corry in Ireland! Based in County Clare, J.J. Corry is a whiskey bonder rather than a distillery. This means that it doesn't produce the liquid itself, but instead sources it from top distilleries all over the country, before maturing, blending, and bottling it. Founded and spearheaded by Louise McGuane, J.J. Corry was the first new bonder in Ireland for over 50 years when it opened in 2018, bringing back a wonderful Irish tradition that was almost lost to history. Our exclusive bottling, called Lasóg, is a blend of 60% well-aged malt and 40% grain Irish whiskeys, with the grain bringing a delicate vanilla-forward sweetness to the juicy barley notes.
Dingle Single Malt 
This brilliant Irish single malt is Dingle Distillery's first core whiskey. The family-owned distillery, which can be found on Ireland's south west coast, is rightly proud of its manual distillation process, local water, and top-notch first-fill casks. This particular whiskey is triple distilled, and then matured in a combination of ex-Pedro Ximénez sherry and ex-bourbon casks, in proportions of 61% and 39% respectively. It's brought down to bottling strength with local water from a 240-feet well, and presented at 46.3%. The area of Dingle has an ideal climate for maturation as it's mild and damp, so there's more interaction between the spirit and cask year round than in colder climates.
Brenne Estate Cask French Single Malt Whisky
Brenne was launched back in 2012 by Allison Parc (a former professional ballerina), collaborating with a French distiller in Cognac. Estate Cask is made with locally-grown malted barley double distilled in an alembic Charente still (rather than the more commonly-used whisky pot still). This is the type of still typically used to produce Cognac. The whisky is then initially matured in French Limousin oak casks (which are known for their creamy, vanilla-forward nuances) before it's moved to ex-Cognac casks for a finishing period – Brenne claims that it was the first single malt in the world to be aged exclusively in these two cask types, which is pretty exciting. Each bottle is drawn from a single cask (so no barrel blending here), and blended with water from the Charente river to bring it down to strength. 
Aberfeldy 16 Year Old
Aberfeldy distillery was opened by the John Dewar & Sons blending firm in the late 1890s – though it wasn't until 1999 that Aberfeldy was sold as a single malt in its own right. The distillery is known as the 'Golden Dram' because its water source, The Pitilie Burn (which translates from Scots Gaelic to 'small river'), contains deposits of alluvial gold, which is still panned today! Its hallmark flavour is rich honey, which is thanks to lengthy fermentation times. This is the marvellous 16 Year Old from its core range, released in late 2015. It's finished in first-fill ex-Oloroso sherry casks, bringing heaps of festive dried fruits and spices to the whisky. Stephanie Macleod is Aberfeldy's master blender, who made history when she was the first woman to be awarded Master Blender of the Year in the 2019 International Whisky Competition.
Benriach The Smoky Twelve
Based in Speyside, Benriach only peats its malt for a brief period each year, called 'smoke season'. The peat itself is sourced from Speyside and the Highlands, so the smoke is full of sweeter, aromatic notes (compared to the meaty, savoury smokiness of the Islands). The Smoky Twelve is a blend of peated and unpeated malts, first released in 2020. The whisky was drawn from a trio of cask types: ex-bourbon, ex-sherry, and ex-Marsala wine casks. This result is a rich whisky with a load of creaminess from the bourbon, dry spices from the sherry, and decadent dark chocolate and candied citrus from the Marsala wine – all topped off with fragrant smoke. Dr. Rachel Barrie is the master blender for Benriach, boasting over 27 years of experience in the industry! In 2020 she was inducted as a Keeper of the Quaich, an exclusive (and invite-only) community of people recognised for their outstanding contributions to Scotch whisky.
Don't forget to put our live tastings in your diary – our first one (3 March, 7:30pm) shines a light on some wonderful women in the whisky industry, while our second one (17 March, 7:30pm) falls on St. Patrick's Day, so we'll be tasting both of this month's Irish whiskeys in that one! See you there.