Open June's Pour & Sip box with us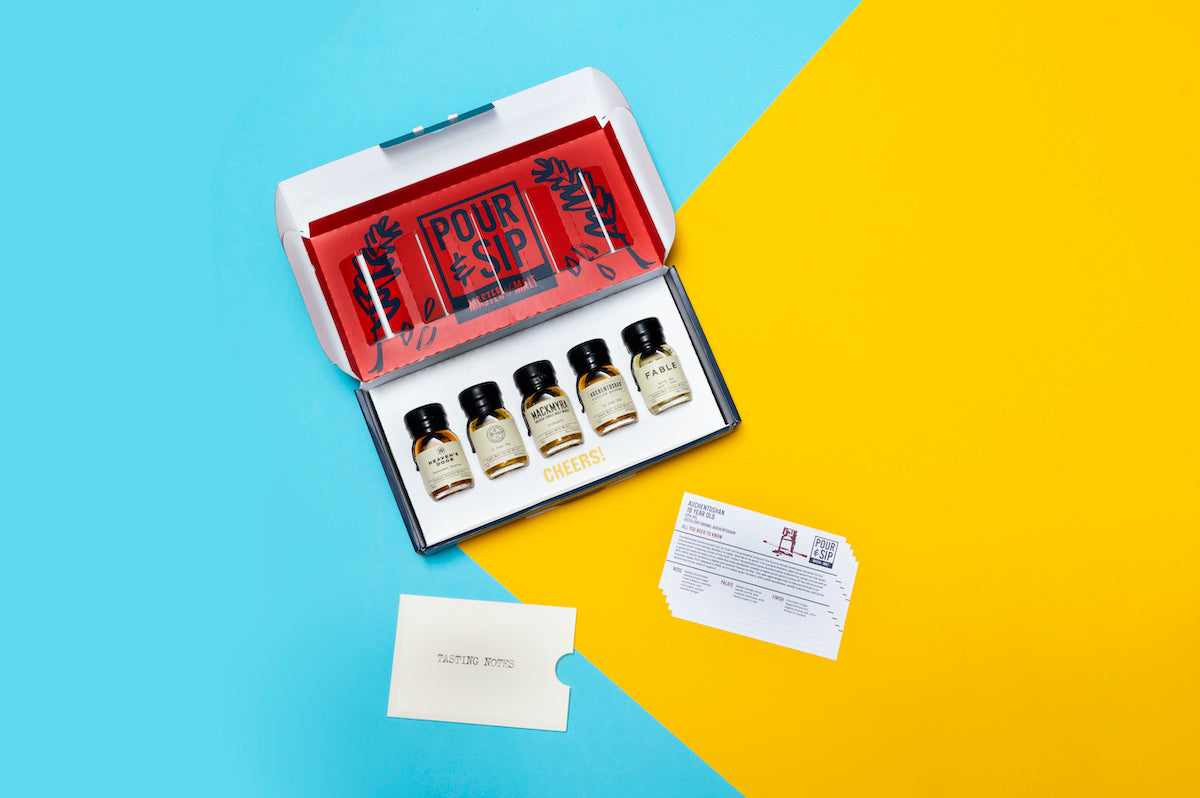 Our whiskies this month are taking us to Sweden ,Tennessee, and all over Scotland, with some pretty funky cask types making an appearance. This month our one and only live tasting is on 9 June at 7:30pm – don't worry, we're still tasting all five drams, but now you only have to keep one date free, and won't have to resist the temptation of your Pour & Sip box for as long!
Mackmyra Stjärnrök
A subtly smoky Swedish single malt from the wonderful Mackmyra, Stjärnrök translates as 'Star Smoke'. It's made up of Oloroso sherry-matured peated malt, and bourbon-matured unpeated malt. There's virgin American oak in the mix too, though the most unusual addition is Swedish oak ex-cloudberry wine casks, in which a proportion of the whisky was finished. Cloudberries are known for being tart and sweet, but the wine is a much sweeter affair, much like a dessert wine. Interestingly, both peat and juniper wood were used to smoke the barley for this expression, so expect some green, piney notes among the smoke. The casks are aged in an abandoned mine 50 metres underground – it's cool, dark, damp, and ideal for maturing whisky. We haven't had Mackmyra in Pour & Sip since our very first box back in September 2020(!), and we're stoked to see it again. 
Arran 10 Year Old 
You'll find Arran Distillery on an oval-shaped island on the west coast of Scotland, after which it takes its name. It was opened in 1995 in the village of Locranza, but the island's distilling history dates back much further than that, albeit much of it illicit. The island once boasted 50 distilleries, while the last legally founded distillery before Arran (named Lagg) closed in 1837. Officially launched in 2006, this 10 Year Old has scooped up numerous awards throughout the years, likely because it exudes all the honeyed richness we know and love from Arran. Yes, this is an island whisky, but it's full of sweeter, malty, citrus notes, rather than the smokier flavours many associate with whiskies from the region. That being said, a second distillery named Lagg was opened on the south of the island in 2019, dedicated to peated whisky. 
Heaven's Door Tennessee Bourbon 
Our first celebrity whiskey! Heaven's Door is a Tennessee bourbon co-created by (you guessed it) Bob Dylan, with the help of ​​master blender Ryan Perry. Clearly named after Dylan's little-known hit, Knockin' On Heaven's Door, the whiskey itself isn't distilled by a Heaven's Door Distillery, though there are indeed plans for such a place in the pipeline – located in a church in downtown Nashville where Dylan recorded four albums, no less. The straight bourbon is distilled, aged, and bottled in Tennessee, produced from a sour mash made up of 70% corn and 30% 'small grains' (such as rye or wheat). It took over 100 different variations before the blend for Heaven's Door was created! The whiskey is matured for at least six years in American oak barrels, it's full of buttery sweetness, with jammy fruits, oaky tannins, and nuttiness in balance. 
Auchentoshan 18 Year Old 
Auchentoshan (pronounced 'ock-un-tosh-un') is somewhat unique in the Scotch whisky landscape, because it's the only active Scotch whisky distillery to triple- distil all of its spirit! The Lowland distillery takes its name from the Gaelic 'achad oisnin' meaning 'corner of the field'. A short fermentation gives Auchentoshan a distinctive cereal note as well as a generous dose of zesty citrus, while the triple distillation creates a higher proof spirit (coming off the still at around 82% ABV), which results in a lighter and sweeter flavour profile. This well-aged single malt is matured entirely in ex-bourbon casks, first released in 2008, so it's rather grain-forward, with subtle woodiness, vanilla creaminess, and those distinctive citrus notes in support.
Fable Blended Malt Batch 1
Fable is an independent bottler that was founded by a pair of drinks industry veterans: Calum Lawrie and Andrew Torrance. Their focus was on sourcing brilliant whiskies from all over Scotland, of course, but while also shining a light on lesser-known stories and myths of Scotland with a whisky association. As well as bottling the whisky, here with batch one of its Blended Malt, Fable has tried its hand at blending. It's all about gothic illustrations at Fable, and in its previous releases Blair Athol was represented by a crow, Mannochmore by a hound, and Dailuaine the moon – all of which, if you could see the full bottle, you'd notice appear on the graphic label of this blended malt! We do know for sure that it spent seven years in ex-bourbon barrels and hogshead casks, bottled up on 17 January 2022 with just 3,000 limited bottles released into the world. It's a gloriously spicy whisky, with lots of sweet malt and creaminess too.